- by Lux
We're excited to finally take the wraps off of the new version of Flipside Studio and Flipside Creator Tools, which includes a number of major improvements and new features.
This is also the first version to offer paid subscription plans for added functionality. All of the existing functionality of Flipside Studio remains free for everyone, but the watermark removal and some of the new features below will be paid-only.
Visit the pricing page to learn more.
Motion capture data export
Flipside Studio 2021.1 adds the ability to export motion capture data, making Flipside Studio the easiest way to record multiplayer motion capture sessions for use in any animation software or video game. Motion capture data can be exported in standard BVH files, converted into regular Unity animations using Flipside Creator Tools, or converted to Blender animations via a new Flipside plugin for Blender. You can also export full-body movement recorded with just the VR headset and controllers, or use Vive Trackers for full-body motion capture.
Video renderer
Flipside Studio 2021.1 adds a powerful new multi-camera video renderer for exporting footage of your Flipside Studio recordings, complete with resolutions up to 4K, depth maps, image sequences, and adjustable frame rate and export settings.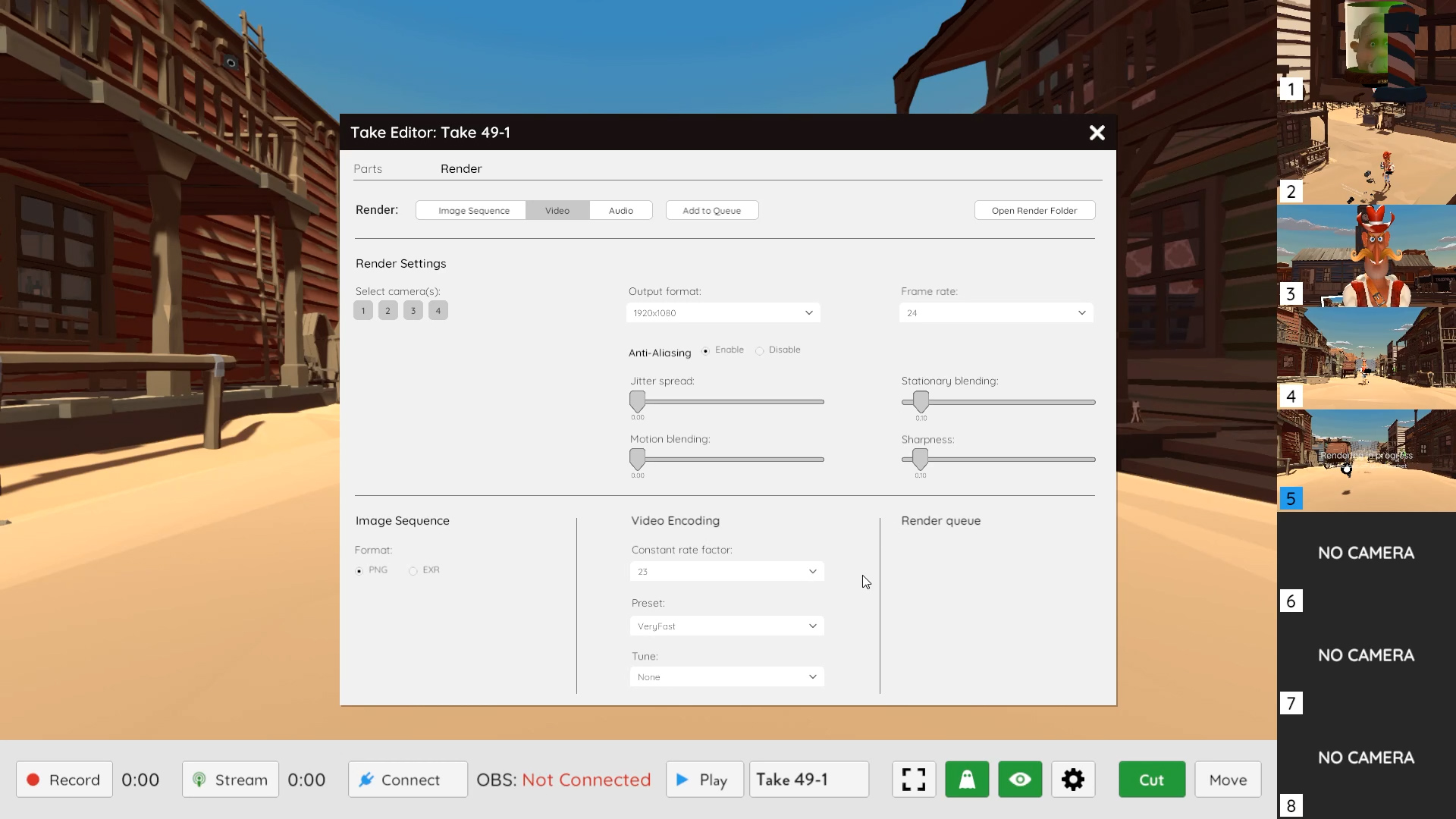 FaceMirror lets you animate faces on anything
This release introduces a new FaceMirror component that lets you animate faces on non-character objects in sets, such as props or otherwise inanimate objects.
More sophisticated animated expressions
We've added a new character expression type called AnimationParameters, which lets you control Unity animation parameters to achieve more sophisticated animated expressions.
And much more
Publish characters and sets directly from Unity in the new Flipside Creator Tools
Full hand tracking now supported on the Valve Index controllers
New retargeting system for improved character movement
Stand-ins let you create still poses of characters to streamline camera placement
Enable ambient occlusion under Settings > Output for improved lighting and shadows
Microphone settings tab now includes noise gate, compression, and gain controls
Teleprompter supports additional character sets, including Greek, Cyrillic, Thai, and Tamil
Visit the Flipside XR blog post for the full details of this release.
- by lux
We're excited to introduce a new home for the Flipside community, appropriately named flipsidecommunity.com.
Here, we've built a few cool things for the community:
A new share asset directory to share characters, sets, and skies with each other (props will be added in the future too!).
A one-click install button to install any asset.
A community forum for finding answers, getting help, or sharing your creations.
We'll still be active over on Discord too, but this will help especially in finding assets for your Flipside shows, and finding answers to questions other users have already had answered. Forums are great for that!
So welcome, make yourselves at home, and come say hi over on the forum.
Cheers,
The Flipside XR Team